You may carry one suitcase and one personal item in the cabin at no charge, under your responsibility and care. Your carry-on baggage should be light enough to be placed in the overhead compartment.
If there is not enough room on board, it will be moved to the aircraft hold, again free of charge.
Dimensions and maximum weight of carry-on baggage:
The maximum weight for a carry-on bag is 11 lb (5 kilos).
The maximum dimensions are: 45 cm x 35 cm x 20 cm (height x length x width); including accessories, wheels and handle.
IMPORTANT: If your carry-on bag exceeds the maximum size and/or weight, you will have the option of sending it to the aircraft hold at an extra cost, if you have already checked in your baggage. If you choose not to do so, we will not be able to transport your carry-on bag and cannot be held responsible for its safekeeping.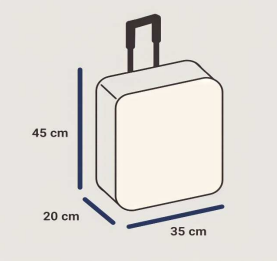 You may carry only one personal item in addition to your carry-on baggage. This article must fit under the seat in front of you, such as a purse, laptop bag or baby bag.
In addition to the items mentioned above as carry-on baggage, you may transport, under your care and at no additional cost, any of the following items:
A coat, an umbrella, a small camera, binoculars, reading articles (book, magazine, tablet), a small bag from a duty-free store, or an electronic cigarette with battery removed.
We recommend that you keep with you any items of value, such as money and jewelry, or fragile and electronic items. In transporting baggage, we do not cover loss or damage to these belongings.
You may check in one bag at no additional cost.
The weight of the bag must not exceed 50 lb (23 kg), and its total outside dimensions (height + length + width) must not exceed 62 in (158 cm).
No item of baggage may exceed the permitted weight and/or dimensions. If your bag exceeds these limits, you must pay additional baggage fees.
Children between 0 and 23 months of age traveling at the infant fare may bring only the equivalent of one carry-on bag